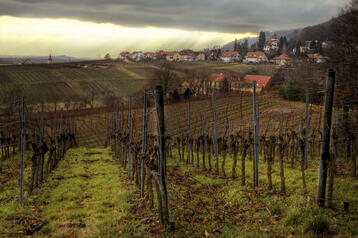 In less than a week, it will be officially fall. That means the glorious return sweater weather, a certain crispness in the air, and the crunch of falling leaves underfoot. Moreover, it unfortunately means the death of rose. So let's seek out warmer tones that mirror the end of harvest season and those that help take the edge off of the crispness in the air. Instead of diving right into the deep end of the pool and go for the heavy, rich, bold wines but let's honor the seasonality and dip our toes in a bit at a time for a gradual transition.
Fall Wine #1:Beaujolais

Meet Burgundy's little sister, Beaujolais. Beaujolais might be the one of the most overlooked wine regions in France; people are always putting baby in the corner, and well, it wants to dance. There is more to this region than the ubiquitous bottle of George Duboeuf's Beaujolais Nouveau found around Thanksgiving. Gamay Noir, the grape du jour of the region, makes easy to love, fun, delicious wines. It is characteristically light bodied and fruity, with notes of strawberries, and cherries. There can be hints of earth and spice as well to give some heft to the wine and the minimal presence of tannins gives the wines the juicy factor. Gamay is great with pork, chicken, and fall vegetables. Look for the bottles with names of the ten Crus listed below. Not sure where to start? We have grouped them for you according to flavor profile:
Light and simple:

Régnié
Brouilly
Chiroubles

Juicy with Finesse:

Côte de Brouilly
Fleurie
Saint-Amour

Weighty opulence with a hint ofgameyness

Juliénas
Chenas
Moulin-à-Vent
Morgon
Fall Wine #2: Anything from the Piedmont
This region is famous for truffles, Barolo, and Barbaresco. But you don't have to break the bank to enjoy wines from this region with the coming cooler climate. The three grapes, Barbera, Dolcetto, and Nebbiolo, make for easy transition from the hotter days to chilly nights. Barbera is good for those looking for friendly companion in a bottle. It is zippy, juicy, and medium bodied and perfect with tomato based pasta and chili. Dolcetto, aka little sweet one, is a step up from Barbera. It exhibits the fruitiness of Barbera but also packs a little tannic punch. So if you want to keep noshing on those burgers, think no further than the little sweet one. Now, if you were to combine Barbera and Dolcetto, you might possibly get Nebbiolo. It has the fruitiness and it has the tannins but it's in a different class of its own. The smell of the wine made from Nebbiolo is why it is included on this list. It is reminiscent of woodsmoke, autumn undergrowth, roses, and violet. Enjoy the wine on its own or with mushroom risottos and rich stews.
Fall Wine #3: Carignan

Yes, Carignan is not a wine region but a grape variety. It would be an injustice to list one region just to talk about Carignan so it gets its own point. Repeat after me: Carignan is awesome. Carignan is great. Most of the time, it is used as a blending grape due to its deep coloring. However, when the winemaker chooses to vinify it on its own, it becomes something super delicious. Because it is high in acidity and tannins, winemakers employ carbonic maceration to make it more approachable. The end product is plush and juicy. There are hints of smoke and earth and just a smidge of dried fall leaves, the epitome of a fall wine. It is a great wine to drink on its own by the campfire, a fireplace, or staring lovingly into blue light of a gas stove as you get ready to prep your dinner. Great examples can be found from Languedoc-Roussillon and California and for a splurge, Spanish Priorat is a joy in the glass.


Did we miss one of your favorite fall wines? Don't be shy? Add a comment below!