Spanish Wine: So Much More Than Just Rioja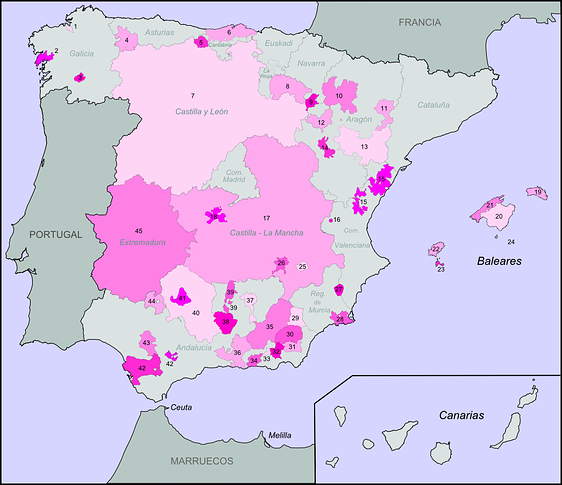 Regions of note: 1 Rías Baixas DO (or Rías Bajas) 2.Ribeiro DO 3. Ribeira Sacra DO
Valdeorras DO 6.Bierzo DO 10.Toro DO 12.Rueda DO 13.Ribera del Duero DO
15.Rioja DOCa 16.Txacoli de Álava - Arabako Txakolina DO (Chacolí de Álava)
17.Txakoli de Bizkaia - Bizkaiko Txakolina DO (Chacolí de Vizcaya)
18.Txakoli de Getaria - Getariako Txakolina DO (Chacolí de Guetaria)
19.Navarra DO 21.Cariñena DO 28.Priorat DOCa (Priorato)
41. DO Jumilla 53. Manzanilla-Sanlúcar de Barrameda DO
54.Jerez-Xérès-Sherry DO (also covers Manzanilla DO area)
56. Montilla-Moriles DO 57.Cava DO (Multiple places, not represented)
We know that you probably already love your Rioja (if not go out and buy one now, you will not be sorry), but there is so much more to Spain than just the silky, sweet baking spice laden charms of this Tempranillo based beauty.
Sparkling:
One word: Cava! Those ingenious Spaniards came up with a method that mimicks Champagne's Methode Traditionelle providing bubbles that offer serious bang for the buck.
White:
Godello: This grape almost went extinct in the 1970s, but it was saved by some determined winemakers in Valdeorras, Ribeira Sacra and Bierzo. Good thing, as it has become the darling of many sommeliers. It is often likened Chardonnay for its neutral character, and thus the ability to adapt to bend to the whims of the winemaker and the land in which it is grown (yep, that's that terroir again).
Txakoli: This Basque beauty is bone dry, low in alcohol and dripping in minerals. This is meant to be drunk young, and preferably in the dog days of summer when it is too hot to think, let alone move.
Viura: Did you know that your red Rioja, also has a white sister? If you did, congrats and drink up. If not, here's the scoop: Viura is a sturdy grape that is better known as Macabeo in the rest of Spain. where it is also used to make Cava (see above). At their best, these wines posess a medium to high acidity, delicately floral aromas and a creaminess on the palate.
Reds
Tempranillo: Although this grape is best known for producing Rioja, Spain's ubiquitous red, it also offers an even deeper earthier expression in Ribera Del Duero.
Grenache: The backbone of southern Rhone reds is better known as Garnacha in Spain where it is used as blending grape in Rioja, but shines when it flies solo in Navarro and Priorat. The wines are juicy, fresh, spicy and offer stellar bang for the buck.
Fortified / Dessert:
Sherry: Southern Spain's fortified wines range in style from bone dry and almost salty (Fino) to sticky sweet and carmelized (Oloroso). The Solera method of production blends different vintages to produce a signature house style that remains consistent year to year.