The Sommelier Behind Wine for Rookies
Irrationally exuberant HubSpotter and Certified Sommelier, Amy Ullman has been working in wine for over a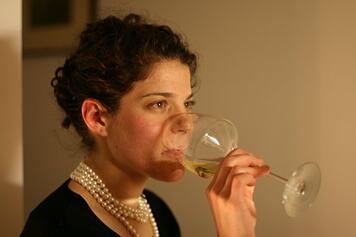 decade. She began her career waxing rhapsodic over the virtues of Vinho Verde and the vices of White Zinfandel on the patio of Shays Pub and Wine Bar in Harvard Square. Since that time she has worked in every facet of the industry:
Serving and bartending at award-winning restaurants in Boston and Aspen;
Selling wine for a boutique wholesaler;
Interning in the Christie's wine department;
Pruning and weeding at an organic vineyard in Beaujolais.
Educating future chefs at Le Cordon Bleu Culinary School;
Synthesizing the worlds of wine, technology and e-commerce at Beverage Media Group;
Mastering the Jedi mind trick of blind wine tasting through the Boston Sommelier Society;
Conducting wine tastings for the Harvard Law School Wine Society, New England Club Managers Association and City Wine Tours;
Content Creator for the most amazing of wine apps, Drync.
She received a Bachelor of Liberal Arts from Harvard University in 2009 with concentrations in Economics and French. She holds the title of Certified Sommelier from the Court of Master Sommeliers, a Certified Specialist of Wine through the Society of Wine Educators, and is currently working on her Diploma of Wine and Spirits via the Wine and Spirits Education Trust.
So want to know a little more about what we can do for you? Click on the button to the right for a free consultation. We will gladly assist with everything from starting your first wine cellar to pairings for your next soiree to what to drink with dinner.