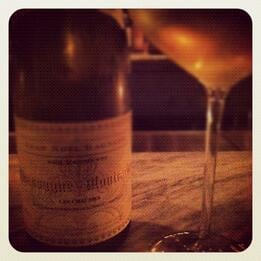 Yesterday, I was fortunate enough to act as guest blogger for City Wine Tours, providing the blog post below. You can check out the original post here. Although the wine shops are closed today, this guide will defrinitely come in handy over the next few days and for festivities year round (I hope!).
Have an amazing holiday - hope you will be sipping something awesome!
Attention holiday shopping procrastinators, still stuck for that impossible someone on your shopping list? Was there one host or hostess you had forgotten to get a little something for? We at City Wine Tours have the cure for what ails you. That's right it's our last minute holiday wine guide! Something to carry you through the Christmas festivities, New Year's Eve and even those belated January holiday parties (I myself have three on the agenda already.)
No matter what your holiday quandary we have a wine for that!
Problem #1: Your host or hostess is not a wine drinker.
Solution: Get them a bottle anyway! Unless their households are truly dry (in which case why are you going there in the first place?), a bottle of wine is always an appropriate gift. If they do not imbibe regularly, they still have guests and friends that do. Your perfect bottle selection will allow them to look slick and knowledgeable in front of company, and that is a present in and of itself. Additionally, think of the regifting possibilities!
Problem #2: Your family function runs the gamut from Uncle Larry who still thinks white Zinfandel is a thing (FYI it's not) to Cousin Charles, the connoisseur that will spend hours regaling you with his last trip to Burgundy. How can you buy a wine that pleases them both and will not break the bank?
Solution: According to our Chief Wine Ambassador, Wesley Narron, the solution is Vouvray for the white and Rioja for the red.
Vouvray is a delicious off-dry white wine from France's Loire Valley. The best examples possess a vibrant, racy acidity, with flavors of juicy citrus and honeysuckle, and just a touch of off-dry sweetness to make them fun for the whole family. And if cousin Charles turns his nose up just remind, him that Huet's 1947 Vouvray was number 6 in Decanter magazine's list of wines that you must try before you die.
Rioja, is a woefully underrated, Tempranillo based red from Spain. It possesses the delicacy of a Chianti or a Pinot Noir, with a little less of the edgy, earthy funk and more ripe fruit and sweet baking spices, thanks to aging in American oak. The price of the wine (and often the complexity) depends largely on aging time that the wine has in the barrel: Youthful Crianza's require a year, regal Reservas two, and those grand Gran Reservas require five. Let your conscience guide you in your final purchasing decision but two easy to find and well priced producers are Lan and Marqués de Cáceres.
Problem #3: You need course and meal specific wines to bring to Christmas Eve or Christmas Day festivites:
Solutions: For this question we reached out to Lauren Collins, Sommelier at City Wine Tours Partner, L'Espalier (If you have not gone, make it your New Year's resolution to do so!).
Cheeses, Nuts or Nut-based Desserts: " I'm in love with the 15 year Mas Amiel Maury & also the 15 yr Oloroso Sherry from El Maestro Sierra; neither is too sweet!"
Oysters or Fish on Christmas Eve or oterhwise " Drink more Chablis! Raveneau or Dauvissat if you can find/afford it, otherwise Servin, Roy Prevostat, or Picq are excellent. Go Grand Cru or 1er Cru for more richness!"
Roast Ham or Prime Rib: "For red, the holidays call for Bordeaux, Chateau Ducru-Beaucaillou and Chateau Palmer (or their 2nd labels!) are favorites or aim for a solid producer with a bit of age for nice versatility on the table."
For brunch: "Bandol Rosé leftover from summer – it should be singing right now!"
Problem #4: You really want to impress that special someone with a wine that will knock their socks off, now or 10 years from now.
Solution: Wes's top gift wine is Amarone, a stunning Italian red blend made of varieties indigenous to the Veneto. Iti s rich, ripe and easy to drink now but is capable of cellaring and enjoying for years to come. The best examples can be kind of pricey, owing to a labor intensive production method (grapes are harvested, rasiniated on mats in order to intensify the sugars, and then pressed and fermented), but they are well worth it. Allegrini and Masi are two lovely producers, but according to Wes, his first sip of Amarone by Guisseppe Quintarelli brought tears to his eyes. We just hope none of them landed in the glass.
Problem #5: You are already in the wine shop and you do not want to have to come back to get bubbles for New Year's Eve.
Solution: Firstly, great call! Wine shops will often give price breaks on purchases made in bulk (10% off of 6 bottles and 20% off of a case is industry standard).
Secondly, how festive are New Year's Eve festivities going to be? One of the best way to determine the wine of choice is to consider the context in which it will be consumed.
Raging house party: Although this scenario calls for quantity over quality, that does not mean that you should suffer. Plus, what a great opportunity to turn your friends on to some budget friendly bubbles. What a terrific time to bring the Cava! Consistently, dry, crisp and delicate and rarely more than $12 a bottle. My favorite producers: Segura Viudas and El Xamfra.
Intimate green, gathering with some lovely locavores: Time to get patriotic! My favorite American bubblies hail from regions not traditionally known for making great wine. New Mexico's Gruet and Massachusetts' own Westport Rivers, make gorgeously complex delicious wines perfect for
toasting to 2013.
Casual dinner party with your foodie friends: Looking for something flexible, food friendly and easy to drink? Prosecco all the way! They are refreshing, fun and possess just enough fruit to appeal to everyone. Look for selections from the Valdobiaddene or Cartizze sub-regions and for producers like Adami, Masuret or Nino Franco. Posh & proper soirée: Whether the dress code is strictly enforced or not, this is a legitimate adult gathering, and as a good guest you ought to provide bubbles befitting the occasion. Time to go straight to the Champagne. This can be a tough category to find wines that offer solid bang for the buck, but there are definitely finds to be found. Stick to non-vintage selections, as they tend to be the entry level wines. Also stay away from big brands if you can, and look for values from "Grower" Champagnes (Serious eats did a great rundown, which you can find here). Unlike the majority of household names, these slightly more obscure houses bottle the grapes they grow rather than purchasing them. The results are often more complex, interesting and of course delicious. Some of my favorites include, Moncuit, Pierre Peters, Rene Geoffroy and Gaston Chiquet. Need an inexpensive doppleganger? Look for French Cremants from the Loire, Burgundy, Alsace or the Jura. These are wines from outside of the Champagne region, made in the same style. Top notch producers include Tripoz (Burgundy), Simmonet-Febvre (Burgundy), Domaine de Baumard (Loire), Tissot (Jura) and Lucien Albrecht (Alsace).
So there you have it: a handy dandy guide for all of your vinous needs for the rest of 2012. We hope that you have a happy and healthy new year, and look forward to sipping with you again in 2013.
Photo Credit: LornaWatt