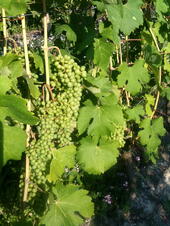 According to a recent piece on National Public Radio, Moscato sales have skyrocketed in the last 2 years. Hip-hop star endorsements, low price point and a healthy dose of residual sugar are a few of the contributing factors. Some might dismiss the entire variety as frivolous; this decade's answer to White Zinfandel. However, I would argue differently: there are a number of Muscat based wines which are gorgeous, sophisticated and well priced (under $25 a bottle).
The Muscat grape is somewhat of a secret agent: it is prone to genetic mutation and thus yields a variety of clones, the best and worst of which can be grown anywhere from Austria to Australia. The list that follows offers a few of my faves.
First up on the roster is the Botani, Moscatel Seco from Malaga on Spain's southern coast. I snickered audibly when my former wine director, Kai Gagnon of Bergamot Restaurant in Somerville , intially described the aromatics of this pour as "beguiling." And then I stuck my nose in the glass.... beguiling was an understatement: this wine is positively seductive. Redolent of rose-hips, lychee and succulent, overripe orchard fruit - I could barely tear myself away. Yet it is almost austere on the palate: bone dry, with a vibrant acidity. (NB
Subsequent vintages of this wine have not proved quite as compelling, and it is therefore no longer on the list).
I encountered a similar experience with the Colterenzio's Pfefferer Moscato Giallo, from the Alto Adige. A tad more serene & stately than its Spanish cousin (yes, these wines makes me prone to hyperbole), this haughty Northern Italian beauty is nevertheless brimming with exotic aromatics, tropical fruit and weighty palate. Come and grab a bottle at Central Bottle.
Those adventurous souls looking for something even more exotic, ought to turn to biodynamic producer Alla Costiera from the Veneto. This producer's dry Moscato, dubbed "Agnese," is bright, bold and bracing, with notes of smoked meyer lemons, lemon curd and Eucalytpus, and positively dripping in mineral if such an oxymoronic condition could exist. Thank the brilliant folks at the North End's Wine Bottega for featuring this beauty.
Nigl is one Austria's top producers of Gruner Veltliner, and they also offer a killer Muscat based wine, known as Gelber Muskateller in the local lingo. Nothing gets lost in translation here: heady aromas of lychees, guava and wildflower, pair beautifully with this wine's inherent racy acidity.
Those that love sweeter Moscatos ought to check out the fortified versions, which are almost sinfully decadent. My favorite underrated expressions hail from Australia's, particularly Campbell's Muscat from Rutherglen: supremely balanced with flavors of smoked lime peel, golden apple & raisins drenched in honey. Thank me later!
If you are longing for Moscato's frivolous froth, Saracco's Moscato d'Asti offers a refined alternative: tangerine peel, golden peach, honeysuckle and soft bubbles make this one stellar pour and at 5% alcohol. Grab a bottle (or three) at Boston's Bauer Wines.
Have any further questions or concerns? Just Let me know!